La Albufereta beach is calm and small situated in between Alicante centre and San Juan. We have consolidated all that you need about this beach.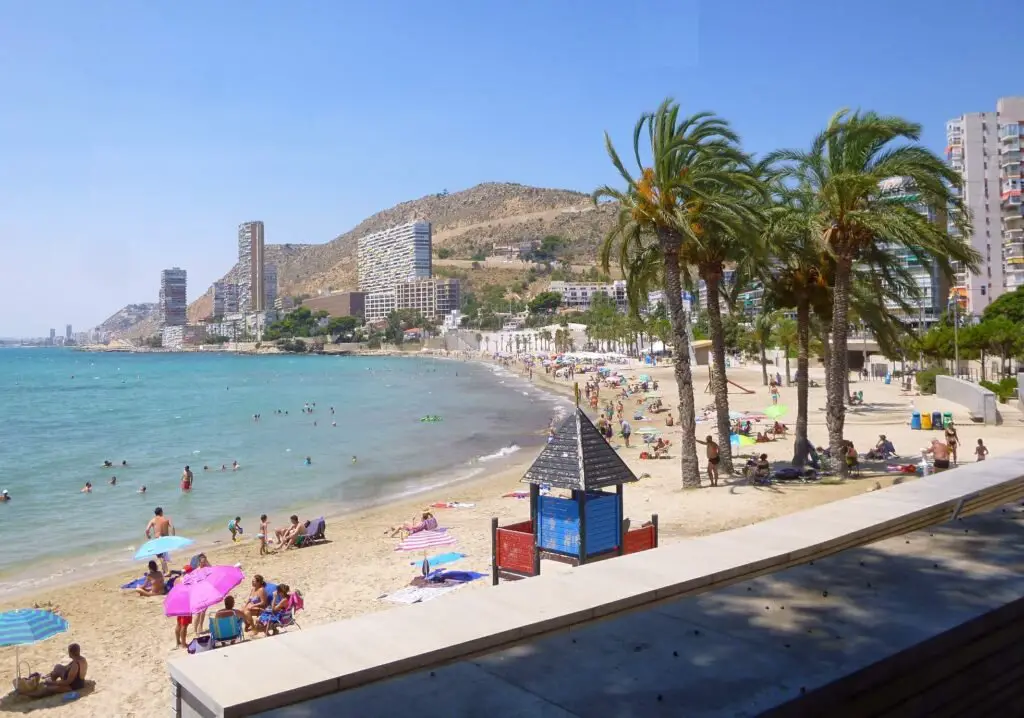 La Albufereta is a sandy beach in Alicante city. It has good public transport connections with TRAM and bus, lifeguards services in high season and chiringitos in summer, among others. The atmosphere is calm so it is a good beach for families.
As many beaches in Alicante can get busy during the summertime as it is a well-maintained beach with all the expected services.
How is La Albufereta Beach?
La Albufereta beach is a 400m long and 18m wide beach. It is inside a bay that makes it, usually, less prone to develop high waves under bad weather conditions.
Although the sea conditions can be better at this beach, there might be some steps and an uneven floor under the water. This is not a unique characteristic of La Albufereta but something to keep in mind.
On the north part of the beach (on the right-hand side looking to the water), there is a rocky area. If you keep walking for around 10 minutes you arrive at another beach, La Almadraba. In between those two beaches, there is a nautical club and a couple of rocky coves if you feel adventurous.
Have extreme precautions if you are going for a bath in any coves as they might not be lifeguarded and accessing/leaving the water might be dangerous.
On the south part of the beach, there are few houses and a hotel a bit further on. There are several bathing areas along the walk but, again, they are not lifeguarded.
Services At La Albufereta Beach
Here is the complete list of services at Playa de La Albufereta:
Car Park
Sunbeds
Chiringuito (paid service)
Foot Showers
Sun Umbrellas (paid service)
Lifeguard Services
First Aid Services
Access for people with reduced mobility
Rental of pedal boats (paid service)
Public toilets
Children's park with games
Apart from the Chiringuito, there are not many nearby restaurants or food places to choose between so you might want to keep that in mind when planning your visit to the beach.
How to Get to La Albufereta Beach in Alicante?
La Albufereta is well connected to the centre of Alicante and the neighbourhood San Juan playa. There is parking next to the beach that can get busy fast in the summer.
To La Albufereta Beach in Alicante by TRAM (Public Transport)
The TRAM is a light train that connects nearby cities such as Benidorm or San Vicente and local areas such as San Juan beach, El Postiguet and La Albufereta.
The TRAM stop you need to use for La Albufereta is called La Isleta. From there it is less than 5 minutes walk to the beach. The TRAM lines with a stop at La Isleta are 1, 3, 4 and 5.
How to Get to La Albufereta Beach in Alicante by Car or Motorbike?
The easiest way to get to La Albufereta Beach is to use a sat nav such as Google Maps. Here is a link with the parking's directions:
The beach address is: Avenida Villajoyosa- Av. Condomina. Alicante
Who is La Albufereta Beach for?
This beach is small and has the shape of a big cove. The sea can be usually calm when other beaches such as El Postiguet or San Juan have few waves. The beach is perfect for families or people that want a calm and family-style beach but don't want to go far to Urbanova.
Dress Code in La Albufereta Beach
La Albufereta Beach is not a naturist beach. People will wear swimming pants and bikinis of all types. It is common to find women doing top-less but no-one will be totally naked.
General Advice When Going to the Beach
The bath area is up to the yellow buoys. Don't trespass that line.
The sun is dangerous, always use sunscreen cream.
Keep your stuff safe. Thief operates the beaches.
Drink a lot of water. Remember it will be very hot.
Always follow lifeguards recommendations.
Related Questions
Is La Albufereta Beach clean? Yes. The beach is maintained and cleaned all year round.
Can I drink alcohol on the beach? Drinking alcohol is not permitted on the beach.
Can I smoke on the beach? Smoked is permitted as long as cigar butts are not thrown into the sand.
How can I recognise a lifeguard? Lifeguards in Alicante wear a yellow T-shirt and red trousers and, usually, a red cap. Many times they will have an orange float on their hands.