El Postiguet is the most central beach in Alicante city. It is almost half a mile long (700m). In summer, it has all the services you will need in a beach: lifeguards, deckchairs, pedal boats, inflatable slides…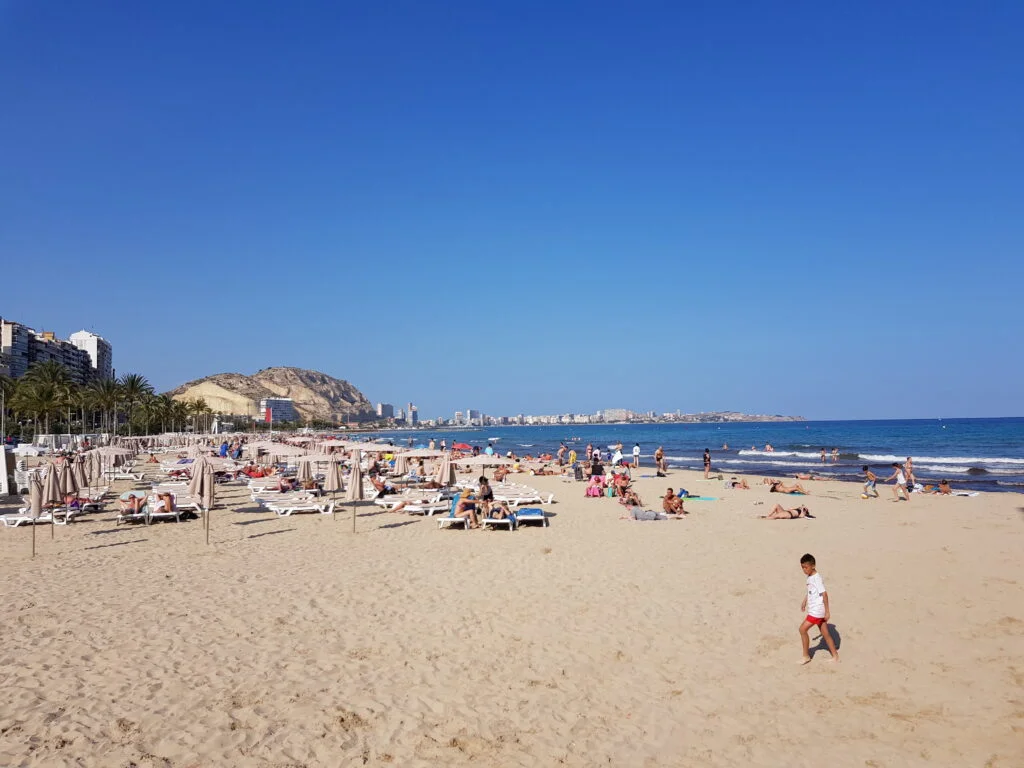 The beach El Postiguet is situated on the heart of Alicante. The translation to English is "the little shutter" and it is a word in the Valencian language (a Catalan variant). The name comes from a small door situated down the hill of Castillo de Santa Barbara, in one of the walls protecting the city centuries ago.
Nowadays, the beach averages 40m width of white sand. In summer you can expect all the services from a modern beach: lifeguards, foot washers, beach bars… in winter there will be fewer services but most of the bars will be kept open.
Metting Points nearby El Postiguet
There are a couple of important meeting points and places near by the beach that are worthy mentioning.
Playa del Cocó
This is the furthest part of the Postiguet beach. In the past, it was a different beach. It starts at the breakwater and goes all the way until the rocks start. It is considered being part of the same beach but with a different name. All the beach bars or chiringuitos will be on this side of the beach.
Puerta del Mar
This is the name of the square next to the beach, where the Ocean Race bout is sitting. It is important because this is the name of the bus and TRAM stops that will drop you on the beach. From there you can access the car parking as well.
El Peret
It is the name of the ice-cream shop on La Explanada de España. It is located at the end of this promenade, in the extreme that is closer to the beach. This place is an important meeting point for many Spaniards. It is a good place to get a taxi as they have an stop here.
How to Get to El Postiguet Beach in Alicante
This beach is very central. You can walk from El Barrio, La Explanada or the port in less than 10 minutes. Further neighbourhoods like San Blas are at 30 minutes walk. But if you live far from the beach you might need to get by public or private transport.
Bus to El Postiguet Beach
This is one of the better-connected areas in all the city. Many lines will stop in Puerta del Mar that it is just the beginning of El Postiguet beach. The red bus lines (serving only to Alicante city) stopping here are: 22, 02 and 22.
Some lines will stop 5 minutes away, in the street called La Rambla: 05, 08, 10, 13 and 39.
Note that there are few other lines coming from nearby towns (blue busses) that are not in this list. For example, buses coming from San Vicente del Raspeig.
Car to El Postiguet Beach
The car can be a convenient way to go to this beach in Alicante. Distances in this city are not as long as they can be in bigger cities like London or Madrid but parking in the center gets as complicated.
El Postiguet has a small public parking that you can access from Puerta del Mar square but it will be full most of the time. Your second-best option is using a private parking. The closest one to the beach is Interparking Plaza del Puerto. It will get full every now and then. Other parkins are further and will require 10 or 15 minutes walk.
Tram to El Postiguet Beach in Alicante
This option will not always available as the Tram might be or might be not on service all the year round as the government is doing some usage testing on it. The line number is L5 and you can get more info on their website.
Cycling to El Postiguet Beach
Cycling might be more complicated. There are docks where you can chain your bike but no cycling lines get you to the beach. You will need to stop nearby the city hall cycling line or cycle on the road with other cars. Note that chaining a nice bike on the beach might become a security issue for your property.
I hope this article helps you to get to know better El Positiguet beach in Alicante and why you should not miss it out. If you have any question or you want to tell your experience on this beach feel free to leave a comment!