Alicante is a Mediterranean coastal city in the southeast of Spain. It is also the capital city of a province with the same name inside the Valencian Community. There is a population of 337 482 people as per 2020 data.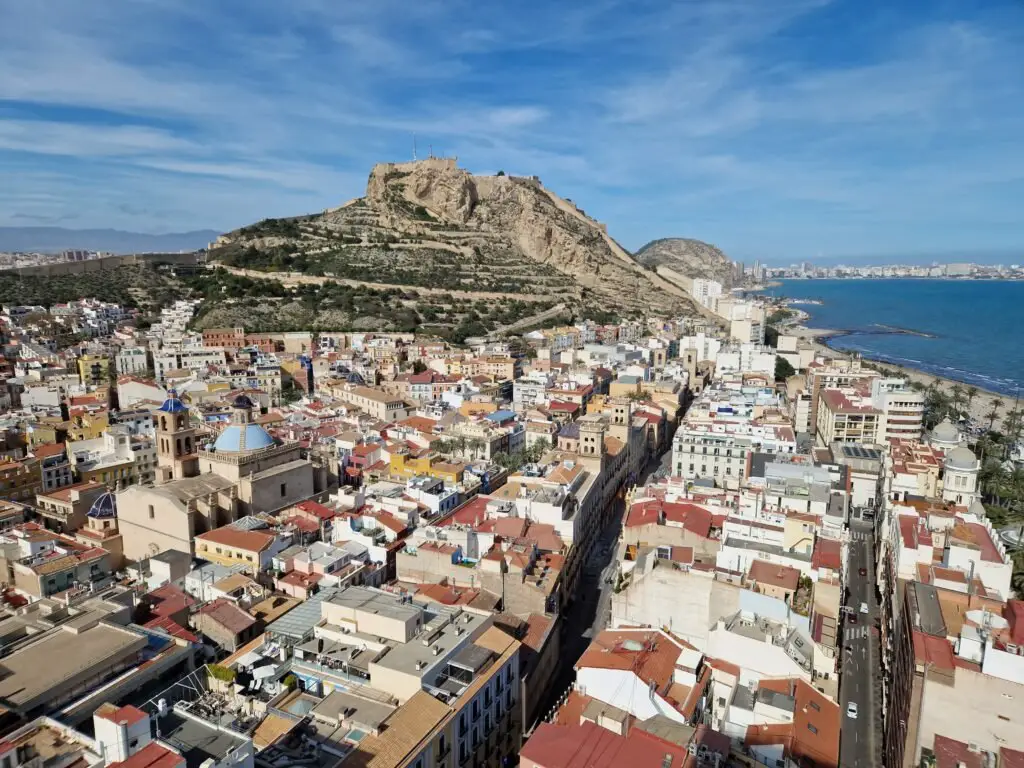 The city has been inhabited for more than 5000 years which enriches the cultural heritage and history we nowadays have in the city. Part of this heritage is kept in the Archeological Museum of Alicante.
Alicante is also a famous tourist destination as it is the capital of Costa Blanca. The city counts miles of golden sandy urban and semiurban beaches including the beaches on an island, Tabarca.
Furthermore, Alicante is a cultural-rich city with pretty beaches, vivid nightlife with a big international community that is not massified in proportion with the city's population.
Alicante VS Benidorm
Alicante and Benidorm are two different cities situated in the same province. They are 40km away and are well connected by public transport: TRAM trains and coaches. Going from Alicante to Benidorm takes around 40min by road but double the time by TRAM.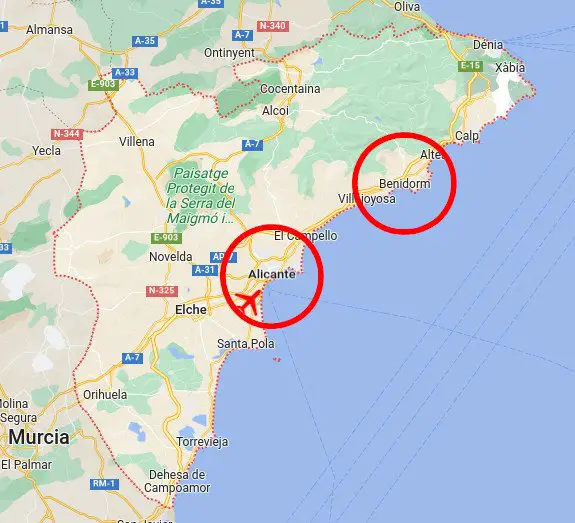 Alicante has been for thousands of years a bigger city than Benidorm. Benidorm has focused on the tourism industry in the last few decades while Alicante has been more of a Spanish-working city all this time. Nowadays Alicante has 337 482 (2020) inhabitants while Benidorm has 67 558 (2022 data). In both cities, the population increases in summer but the Benidorm's increment is of several sizes in its winter population due to tourism.
Both places have an old quarter, nice beaches and vivid nightlife but with a different vibe. While Alicante keeps the Spanish feeling all around the city, Benidorm is a mix of international cultures sensed in its shops, restaurants, hotels and party places. While British culture is strong in Benidorm it is far from being the only one represented around the town.
The weather is surprisingly good in both cities.
What is Alicante Famous For?
Alicante is a pretty city famous for its excellent beaches, gastronome and restaurants, affordable prices, amazing weather, a child-out vibe and many cultural and leisure activities.
What to Do in Alicante
Alicante is rich in cultural and leisure activities, museums to visit and beaches to enjoy. Here are some examples of things to do in Alicante:
Enjoy its beaches
Visit Santa Barbara Castle
Stroll through Explanada De España and Canalejas park
Walk around the Old Quarter up to Parque La Ereta to Santa Cruz
Visit San Nicolas Cathedral in the Old Quarter
Walk around the Central Market in Alicante
Visit The Ocean Race regatta museum
Visit Alicante's museums, such as MARQ Museum
Organise a day trip to Tabarca Island
Stroll next to Alicante's marina
Try as much as you can of Alicante's gastronomy, food and wines
Enjoy the good weather outdoors or on its beaches
Eat Churros with hot chocolate at Valor
Enjoy the contended prices
Find your perfect accommodation in between the large variety of hotels, hostels and others
Feel Alicante's laid-back quality of life
Visit the millenarian archaeological site Lucentum, the ancient origin of Alicante
Visit other countries using its Airport
Enjoy day trips to places such as Terra Mitica, Calpe, Altea or Benidorm
Do active and adventure tourism activities such as kayaking, city visits by bike or electric scooters, kicking, coves, parasailing, sailing, kitesurfing and many others
Use the TRAM train to Benidorm to enjoy the views from the train
Visit Alicante during the easter holidays to see the parades
Airport
Alicante Airport (officially Alicante-Elche Airport) is the 5th busiest airport in Spain by passenger number per year, with more than 13.2 million passengers using Alicante Airport in 2022 (in Spanish).
The airport received in 2018, 2019 and 2022 (in Spanish) the ACI award the "Best Airport in Europe" for its category -15m to 25m passengers per year-. Alicante airport is comfortable for travellers and has connections with most of the major cities in Spain, Europe and Morroco. Examples of cities with direct flights are Rekiqvick, Oslo, London, Rome, Madrid, Barcelona, Marrakech, Budapest, Zurich, Brussels, Berlin, Kaunas and many more.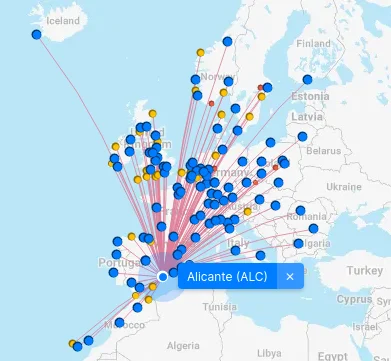 Some of the airlines flying from and to Alicante airport are Ryanair, Vueling, EasyJet, Jet2, Norwegian, Iberia, Icelandair, Swiss, British Airways and many others. Note some of the airlines are low-cost so flying to/from Alicante can be economical.
The airport is separated into two main areas, one for domestic and European flights with shops and restaurants such as Burger King, Budweiser, Duty Free or Costa Coffe and many others. In this area, there is also a terrace for smokers in the Budweiser pub. The area reserved for non-EU international flights (to the UK, Morroco, etc) has a smaller restaurant and shop offer.
Security is usually fast with several lines opening and closing depending on the passenger's load. The Alicante Airport building is relatively new, opened in 2011, which makes it well-designed and prepared to transport millions of people per year comfortably.
The transport to the airport is only by road as there is no train station at the airport. There is a bus to Alicante (line C-6), a taxi stop, private transfers and a coach/bus station for commutes to Benidorm, Altea and many other destinations. You can not order Uber or Cabify from Alicante airport but taxis are available and waiting in the terminal.
Alicante Nightlife
Alicante is good for partying too. It has a vivid nightlife cheered by people of all ages. The party is divided into 4 main areas:
Old Quarter El Barrio
The main party area in Alicante with the most clubs. A bit of everything, from Latin music to techno not forgetting commercial Spanish music, commercial international music, reggaeton, rock and more. Clubs close at 3 am by law.
Castaños
Perfect for joining up on the Tardeo phenomenon. The Spanish usually start partying late. It is common to meet your friends for dinner at 10 pm and then go to a club from 11 pm-12 am up to 3 am or more moving to after-hours clubs.
In Castaños, people would meet earlier for a drink, from 5 pm or so, which is not that common in Spain. In that street, clubs open earlier than in the Old Quarter so you can be partying from 5-6 pm and go home earlier after a nice party evening.
Clubs will open in the evening and close at 3 am too.
Puerto
Puerto (means port or harbour) is in between El Postiguet Beach and Alicante's marina, close by the "The Ocean Race" museum.
At Puerto, some of the clubs will close later than 3 am so it is a good place to go after a party at the Old Quarter or Castaños. There are different places with different music styles, including Latin music, and even a karaoke bar.
Playa de San Juan (Summer)
Playa de San Juan also has some pubs and clubs but the season when more people would party in this part of Alicante is summer.
El Golf (Summer)
Next to the golf field "Alicante Golf" there are some clubs that get busy during summer. You can go by TRAM lines 1 and 3 getting off at "Campo de Golf" which usually offers night service during the summer weekends.
Alicante Gastronomy
Alicante is rich in traditional gastronomy. Here are some examples of foods that you should try when in Alicante:
Arroz Alicantino: A Banda, arroz del señorito, arroz con costra, con bogavante, del señoret and other variants
Coca de Mollitas
Turrones de Jijona
Olleta Alicantina
Coca de San Juan/Coca amb Tonyina
Alicante FAQs
What is the Heat Like in Alicante during Summer?
Temperatures during summer can be a bit suffocating if you are not used to it. It is not common to have more than 35ºC during the day but possible. At night, it goes down to around 20ºC in the very early morning but most flats don't have enough time to cool down. The mediterranean sea makes sure the humidity is high all day and night every day. Having A/C where you are staying is the safest bet if you don't have experience with heat. Fans and dehumidifiers can help too. Keep in mind isolation in flats is not the best in older buildings.
How safe is Alicante?
Alicante is a safe city. There are 29 offences for every 1000 inhabitants. In comparison, Barcelona has 47.8 offences for every 1000 inhabitants and Madrid has 37. Malaga is just a bit safer with 25.8 per 1000 people. The data is from 2022 and was gathered from this press article (in Spanish).
Do You Need Cash in Alicante?
It is possible to pay by card in TRAMs, Buses, Airport Buses and Taxis.
Big stores such as Mercadona or Carrefour accept card payments too.
Most small stores, bakeries, cigarette shops, bars and restaurants get payment cards as well.
Only a small percentage of small stores, bars, restaurants and clubs will accept cash-only payments.
The recommendation is to have a small amount of cash with your cards for the odd place where you can only pay in cash.
Remember Alicante's currency is Euros (€).
How to Find a House/Flat/Room in Alicante?
Try visiting several real estate websites:
– idealista.com

The rental agreement usually requires the first and last month's rent equivalent and the security deposit. If you found the flat using an agent then add one more month's rent equivalent for the agent's fee.
Is there an Hourly Rental car Company in Alicante?
It is very easy to rent a car in Alicante but, sadly, there is no service such as Zipcar.com, share-now.com or Hiyacar.co.uk where you can book a car from an app and drive it just for a few hours, without going to a rental company office first.
But car rental prices in Alicante are economical. A few example companies that would allow you to rent a car for a day with low fees are Centauro.net, wiberrentacar.com and drivalia.es.
A few years ago, a company called Mooving used the hourly/minutes rental system with an app for electric mopeds but went bankrupt during the 2020 pandemic after leaving Alicante a few months earlier.