All banks around Europe and the western world are very similar but it is a sector where different countries have different brands and each city have a different amount of branches for each bank. In addtion, each bank have different personalities. If you are about to move it is good you that you know the characteristics of banks in Alicante, Spain.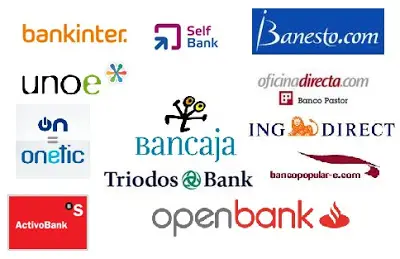 One of the first things to point out is that some banks will ask you to have a NIE, Número de Identificación de Extranjero, that translates to Foreneer Identification Number. This number is a tax number that you will need if you want to work in the country and open an account in some banks. The Spanish have a number that accomplishes the same purpose called NIF.
Popular Banks In Alicante
In Alicante, there is a total of 171 traditional bank branches across the city. All big banks try to have, at least, a branch in each important city so it might be useful to open an account in one of the most popular entities.
| | |
| --- | --- |
| Bank Name | Branches |
| Banco Sabadell | 32 |
| CaixaBank | 44 |
| Banco Santander | 14 |
| Bankia | 14 |
| BBVA | 24 |
| ING | 1 |
| Deutsche Bank | 1 |
| EVO | 1 |
It is important to mention that many banks in Spain usually charge a fee for taking out money from the cash machine from different banks ATMs. If getting cash out is important to you you might double-check that before opening a bank account in traditional entities. Probably ING is the one on the list with most flexible conditions to access cash for free. This is a typical characteristics of Banks in Alicante, Spain
Why you would need a traditional bank in Spain
Traditional banks in Spain have most of the market. The Spanish tend to be more conservative than other nationalities when we speak about financial products and banks. That means that everybody will recommend you and propose to you to open an account in one of the most traditional banks as this is what they use and know. That will give you some advantages:
Access the Exclusive Services Bizzum
The biggest Spanish banks have teamed up to offer a service called Bizzum. This allows you to transfer the money instantaneously to your friends using the phone number. Both people need to be using Bizzum so they need a bank that supports the service. They have deliberately excluded some small and foreigner banks to have a competitive advantage against them. Many young people use the service.
Access to Instant Money Transfers
Incredibly, the transactions in Spain between different entities can take up to 3 days to complete. This situation has been changing in the last few years thanks to the introduction of a new transfer banking system called TIPS. This has been speeding up the transfers for the entities that have adopted the program. Traditional banks are more prepared and many times the money will arrive at the other account instantly… if both banks support the system. Small banks or neobanks might not have this system avaliable.
Why you do not need a traditional bank in Alicante
Traditional banks in Spain trend to be clunky. They all have an app for Android and iPhone but many times you still need to visit branches to open an account or get a new card. They are as well expensive.
Commissions in Spanish Banks
The Spanish banks are very well known for having high commissions. It is very important that you triple check the conditions and know if they are going to charge you money for having the account open, having a debit card or any other rule they might come with.
As well, it is very important that you understand where and where not you can take out money from for free. They love competing between them by not allowing customer from other entities to take money out for free… and it can change overnight.
Rentability in Spanish Banks
The other side of the coin is profitability. No bank in the world will do a good job out of your many in commissions but the Spanish are below average on it. The way they usually offer the better commissions are when buying a financial product, that might be risky or not, and you compromise your money for the fix term… and they will try to sell you the financial products using the branches employees or their apps. Always triple check before buying any of this.
Search for a Bank With Spanish IBAN
If you are from Europe you might now that transfer between the Eurozone are free of charge. Theoretically, the law is set to allow you to, for example, receive a salary in any euro bank even if it is not Spanish. The reality in Spain is that many systems are not adapted to this regulation and chances are that you might find issues using a bank with a foreign IBAN. Be sure that your bank (no issues if it is a traditional one) offers a Spanish IBAN starting with the international code "ES".
If you Need a Bank Account in Spain Use a Neobank
Neobanks are small to mid-size companies that are irrupting into the financial sector all around Europe. They usually offer way better conditions than big banks. For example, in order to attract clients, they might waive for you the commission big banks take for taking your money out at the cash machine. Or you will be able to pay in a different currency for free. They are secure because all financial institutions they must follow the rules for bank deposit guarantees that might apply in their countries of origin. That's the quickest way to get yourself sorted almost hassle free.
N26
This is probably your best option. N26 is a bank and they offer Spanish IBAN. It is free to use. If you leave Spain after some time you can keep your account open as no fees are charged. In addition, the card is free to get, to use, and you can pay in different currencies for free as well. It is mailed to your post.
Any fee they might charge is communicated openly and trasnparetly to you. They have an app and a website for accesing the online banking platform. Your money is guaranteed by the Compensation Scheme of German Banks. Up to €100.000. You can click here to open an account. Just so you know, I might do a bit of money if you use that link. The code is "victors6530" in case you prefer adding the referrel code in the app.
I hope you have now a better idea of what are the characteristics of banks in Alicante, Spain. If you have any experience i banking in the country or you still have any doubt, please, feel free to leave a comment below!