Alicante might look like a possible destination for your holidays, business or even your new home. Let's find out where Alicante is in Europe and within Spain.
Where is Alicante? Alicante city is on the southeastern coast of Spain (Europe). It is 260.41 mi (419.1 km) southeast of the Spanish capital city Madrid. It is situated 326.46 mi (525.4 km) in the south of Barcelona. Alicante is a coastal city in Costa Blanca. It is the capital of Alicante Province which is the southernmost province of the Valencian Community. The coordinates are 38°20′43″N 0°28′59″W
The Spanish administrative division is somehow complex. Each city is located inside a wider structure that organises the country. Sometimes the structures are official and recognised by law but other times the division will be used as a brand or will be part of the popular knowledge.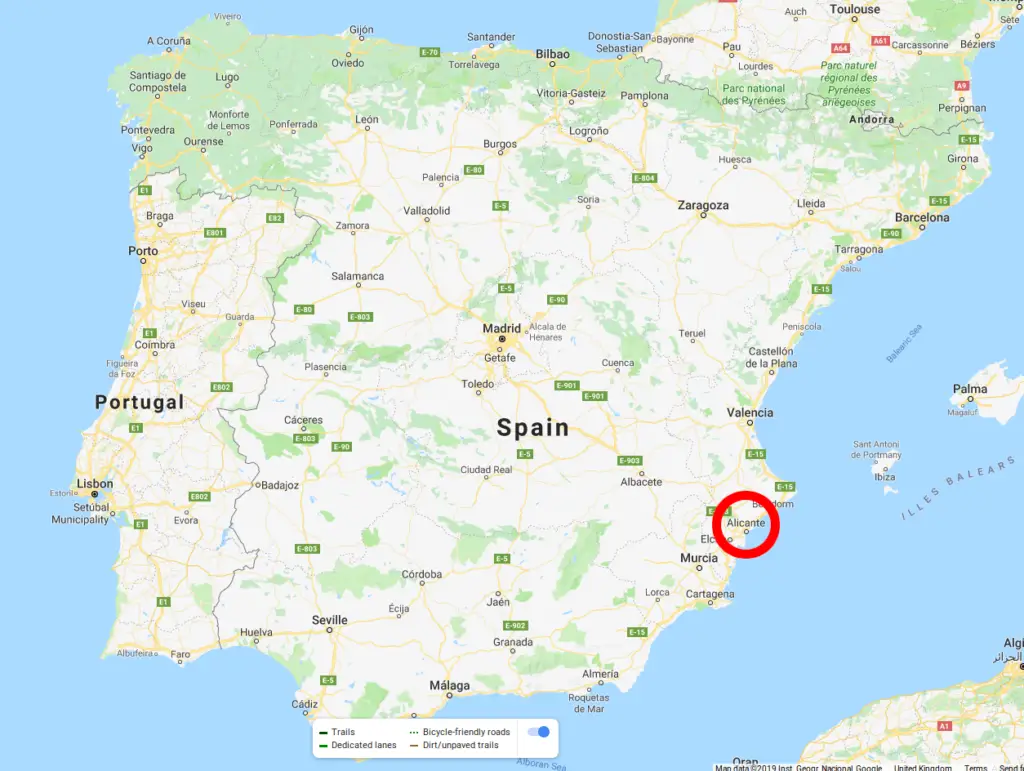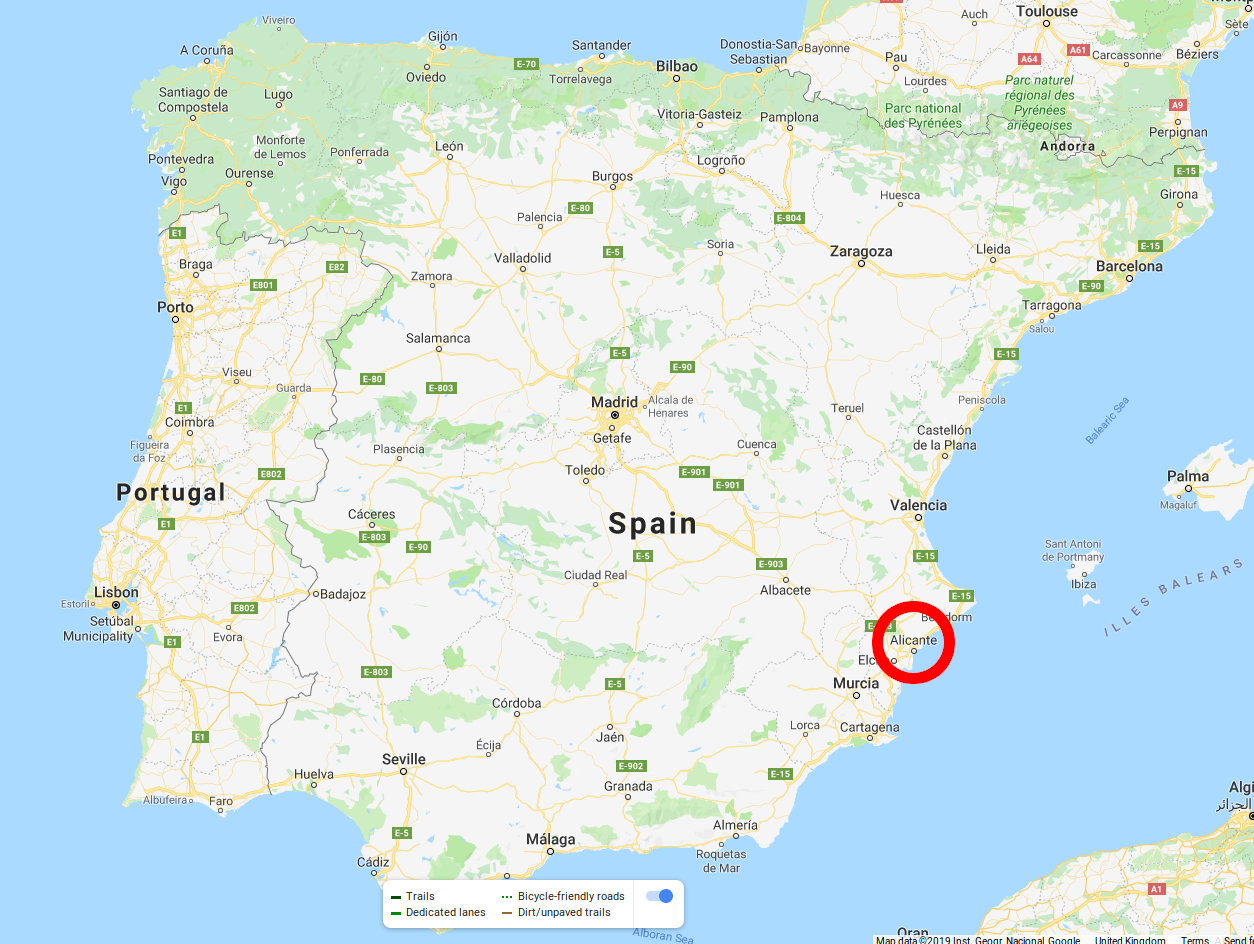 The Exact Location of Alicante Within Spain
Alicante Province is a wider and lawful administrative division. It is located at the south of the province of Valencia, at the north of the province of Murcia, at the east of the province of Albacete and at the west of the Mediterranean Sea. In Spain, there is a total of 50 provinces. Cities such as Alicante, Benidorm and Elche are part of this province. The city of Alicante is the capital.
Costa Blanca (that translates to White Coast) is located on the southeastern coast of Spain and it is over 125mi (200km) long. It is the name of the Alicante province coastline. There are several cities in Costa Blanca. The first city in the north is Denia and the last city in the south is Pilar de la Horadada. Other few examples of coastal cities in Costa Blanca are Alicante, Benidorm, Javea, Denia and Torrevieja.
The Province of Alicante is inside of the Valencian Comunity. It is situated south of Catalonia, north of Murcia, east of Castilla-La Mancha, east of Aragon and west of the Mediterranean Sea. Spain has 17 Autonomous Communities that are other lawful administrative divisions in the country.
Finally, Alicante is in Levante. This is a popular way to call the area on the Spanish eastern coast. In the north, it starts in Girona (Catalonia). In the south, we find Murcia or Almeria. Coastal cities such as Benidorm, Barcelona, Alicante, Castellon de la Plana, Lloret de Mar, Murcia or Benicassim are in Levante but not only. Other inland cites such Elche, Jativa, Lleida, Buñol, Alcoy or Requena are in Levante as well. It is a wide area on the east coast of Spain.
Distance Between Towns in Alicante Province and the Airport
The main international connection to Aliante province, Costa Blanca and, therefore, cities such as Benidorm or Calpe is Alicante Airport. The aerodrome is officially called Alicante-Elche Airport as it is in Elche's municipality. The Airport is the main international connection to the area as it ranks as the 5th busiest airport in Spain.
| | | |
| --- | --- | --- |
| Town | Distance to Alicante | Distance to Alicante Airport |
| Alicante | 0 mi (0km) | 9 mi (15km) |
| Benidorm | 28mi (45km) | 36mi (58km) |
| Altea | 36mi (58km) | 44mi (71km) |
| Javea | 60mi (97km) | 69mi (111km) |
| Torrevieja | 30mi (49km) | 27 mi (43km) |
| Calpe | 40mi (64km) | 48mi (77km) |
| Denia | 57mi (91km) | 65mi (104km) |
| Guadalest | 39mi (63km) | 48mi (77km) |
| Alcoy | 37mi (60km) | 42mi (67km) |
| Elche | 17mi (28km) | 12mi (21km) |
Distance Between Cities and Airport in Alicante Province
Transportation Within Alicante Province
The only commute available from/to the airport is by road. There are plenty of public and private services to reach your destination, including a bus station at Alicante Airport.
From Alicante, there are Tram rail services to cities on the north of Alicante and Costa Blanca such as Benidorm, Denia, Calpe or Altea. There is more information on Alicante's Tram website.
If you want to travel south there is a Renfe train to Murcia that stop at cities such as Elche or Orihuela. So if your destination is a coastal town in Costa Blanca at the south of Alicante the road will be your only commuting option. There are public and private bus and taxi services operating the routes you need from the airport or Alicante.
The last option is to rent a car. Vehicles prices are very competitive in the area and there are many companies offering their rental services. As with flights, there are few websites where you can find the cheapest deals.
Most of the motorways in Alicante province are free and safe. People are not very aggressive when driving and petrol prices are cheaper than in other European countries. Driving can give you the opportunity to commute much quicker and easier through the area.
How is the Weather in Alicante?
The weather in Alicante is humid, hot, dry and sunny in summer. It is warm, humid and sunny in winter. It only rains 35.1 days per year.
Despite it is a dry area, the wet season is September-October-November. During these months there are some low chances that, if it rains at all, it will be heavy rain.
The weather in Alicante, Benidorm and other coastal cities in Costa Blanca is similar. Benidorm's mountains situation and beaches facing south give the city a microclimate and it is a bit less affected by fast winds or rough sea.
Alicante province features high mountains all around its geography. Cities situated far from the coast have very different weather, especially if they are in the mountains. While on the coast it never sows cities like Alcoy will get white almost every year for a couple of days.
The sea gets warm in summer but it doesn't get cold until the beginning of October. The beaches and sun-baths can be enjoyed for a long time around the year in Alicante city and the rest of Costa Blanca.
The summer is usually hot, sunny and dry. Nights in cities nearby the sea will stay hot as well. It is the norm to find A/C machines in most houses, offices and hotels so people can work and sleep properly. The beaches will be crowded and the water warm enough so you don't want to leave.
In addition to this, Alicante weather in the cold season can be very pleasant. During all the winter the weather can have very sunny and warm days. These days with hot temperatures, higher than average, will happen every now and then. Near-to-0 degrees temperatures are not that common on the coast and they will happen a few days per year. The snow only shows up in the mountains.
Related Questions
Is Alicante in Catalonia? Alicante is not in Catalonia. Alicante is part of an Autonomous Community called Valencian Comunity and Catalonia is a different Autonomous Community.
Is Alicante in Valencia? Alicante is not in Valencia. Alicante is part of an Autonomous Community called Valencian Comunity and is not part of the province of Valencia.
Do people in Alicante speak Catalan? Some people in the Valencian Community and, therefore, in Alicante, speak a dialect of Catalan called Valenciano. It is a recognised minority language and everybody is able to speak Spanish.
What region is Alicante in? Alicante is in the Spanish region called Comunidad Valenciana
What province is Alicante in? The city of Alicante is in the province of Alicante
Is Benidorm Close to Alicante? Yes. Benidorm is 45km from Alciante and 58km away from Alicante Airport