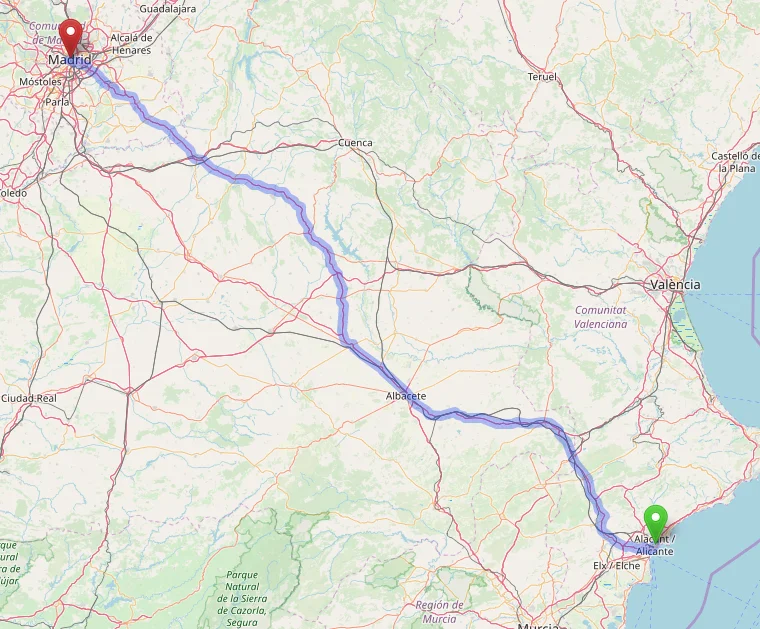 The two cities are separated by 261.6mi (421km). There is a number of ways from traveling from Alicante to Madrid as they both are extremely well connected: train, coach, plane, car or car sharing. Let's find out the ways of doing the trip.
Alicante to Madrid by Train
The company that runs the trains in Spain is called Renfe (Red Nacional de los Ferrocarriles Españoles or Spanish National Railway Network). Their website and the train stations are the places where you can buy the tickets. Here is more information about Alicante Train Station. There are usually more than 10 services per day.
There are three types of trains that can get you from Alicante to Madrid. All the options start in Alicante's train station and reach Madrid-Atocha railway station:
Media Distancia
This is the slowest way to get to Madrid by train but, sometimes, it can be the cheapest. Media Distancia stands for medium distance. Those are the trains on trips of a few hundred miles between nearby cities in slow trains. You would need to do a transfer so you will have to take two trains for the Alicante-Madrid trip. Even if it happens to be the cheapest option by train on the date you need to travel it might not be the most comfortable one. You might want to use the bus if your priority is saving money. Prices are around 40€ but is worthy to check on Renfe's website.
Alvia
This is the second-fastest train. It takes 2:45h to complete the route. It is a very good option if the train times and prices match your expectation. The prices will wildly vary depending on Renfe's prices algorithm. Sometimes can be less than 30€ and sometimes it can be more than 80€.
Alvia trains have an optional fee for traveling in first class. All passengers can use the cafeteria-coach where you can buy some food and snacks. The trains are adapted for passenger with reduced mobility. The Alvia trains can reach a speed of 155mph (250km/h).
AVE
This is the fastest train for the route between Alicante and Madrid. It can take as little as 2:21h to travel the distance but the time can vary on the service's stops and train traffic. AVE stands for Alta Velocidad Española or Spanish High Speed. Trains can reach speeds of 193mph (310km/h).
AVE trains have business class, cafeteria and are adapted for passengers with reduced mobility. AVE trains are the most frequent type of service during the day. Prices will vary highly on the route demand with Renfe's prices algorithm. The way it works is similar to prices in flights. Sometimes, a ticket will be less than 30€ but sometimes it can escalate to more than 100€.
Alicante to Madrid by Couch
Several companies operate the route Alicante-Madrid. All busses will start in Alicante Bus Station and finish the route in Madrid Bus Station Estación del Sur (South Station) where you can take the Metro or local trains.
The main company operating the route is ALSA. You can check and buy the tickets on their website. Prices can start on 12.85€ or less. Again the price is depending on demand and ALSA's price algorithm.
The buses feature comfortable seats. They have two places for luggage: the boot for big bags/suitcases and space above the seat for hand luggage.
The buses have a toilet and they do one mandatory stop in a service area at half way. The stop take place near by the town La Junquera and you can buy traditional food and desserts from Albacete province.
ALSA usually show two movies with Spanish subtitles that you can listen to using headphones.
Alicante to Madrid by Car
The motorway from Alicante to Madrid is free. Alicante elevation is 0m but Madrid's elevation is 667m. Some parts of the motorway near Madrid might be a bit steep and curvy as it is kind of old mountain motorway. You might find some traffic depending on the dates and time you are driving.
In general, the motorways are well maintained in Spain and have nice and wide shoulders. The trip should get around 5 hours taking a break. If you are driving an electric car you can use the app ElectroMaps to plan where to stop and charge. The charging network is expanding fast in Spain. Right now you should be able to use one of the few fast chargers available in the route. In the very near future more chargers will be added giving you some more options. There are Superchargers in the middle of the route if you drive a Tesla car.
It is well signposted how to go to Madrid from Alicante. The main motorway you will be driving in is called A-31.
Travel from Alicante to Madrid using BlaBlaCar
BlaBlaCar is a company for sharing car rides between particular people. It is popular in several European countries including Spain.
If you are a passenger, you will divide with the driver the petrol price. The prices for this ride start at 20€. The app have a booking and messaging system where you can speak with the driver. You can use that in-app chat to decide with the driver where to be picked up and left.
Alicante to Madrid by Plane
The last option to travel from Alicante to Madrid is taking a flight. At the moment, there are two airlines flying from Alicante Airport to Madrid-Barajas Airport: AirEuropa and Iberia. If you want to book a flight you might want to use a flights search engine like, for example, SkyScanner, Momondo or Google Flights. Here is how to get from Alicante city centre to Alicante Airport by bus.
I hope this article gives you a better understanding on how to travel between Alicante and Madrid. If you have any question, please, use the comments!