The train station is situated in the heart of Alicante. It connects the city with short and long-distance trains, including AVE high speed to Madrid. Let's go and find out more details.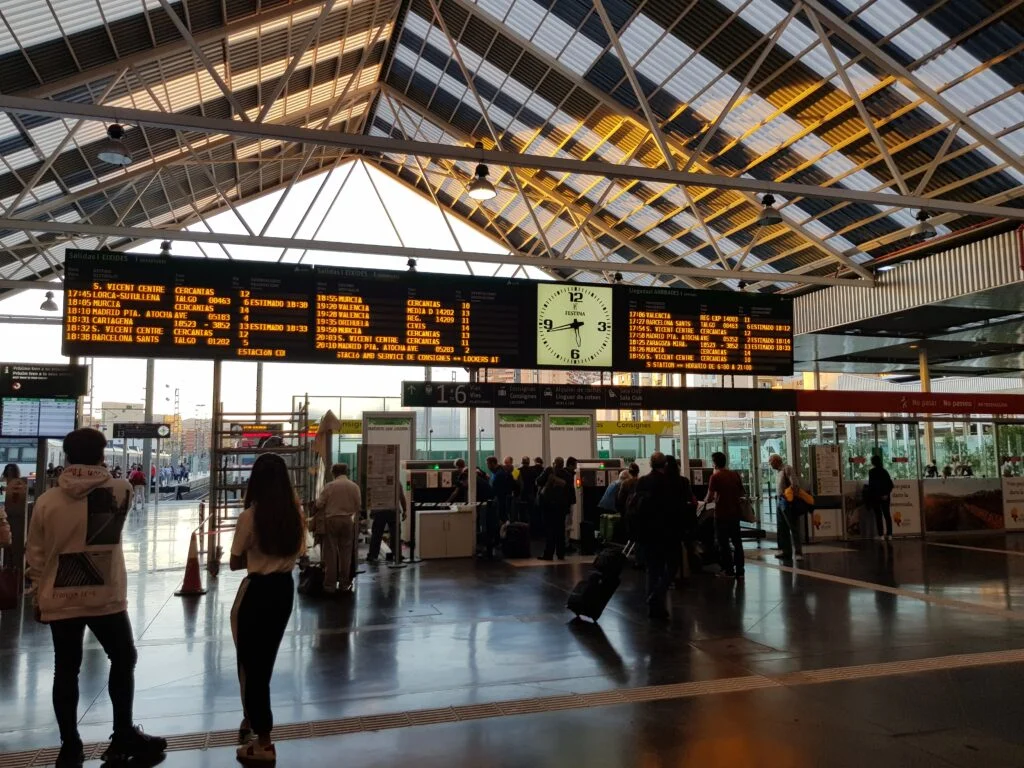 Where is Alicante Train Station?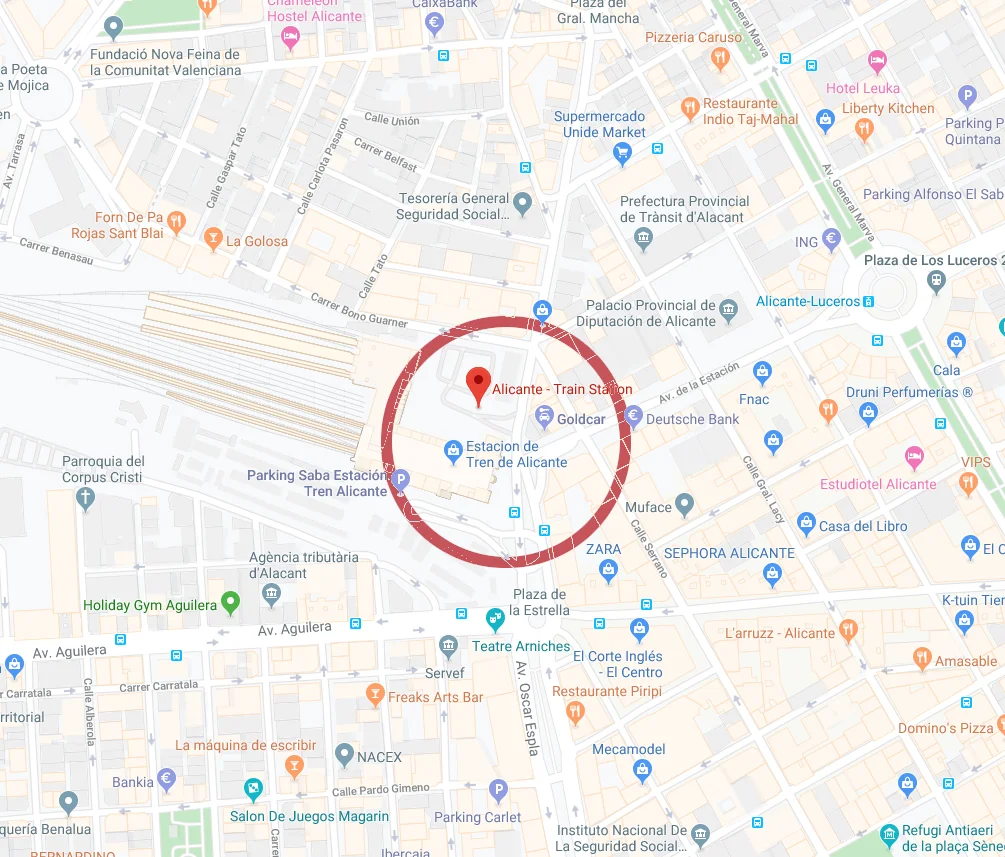 The train station address is 1 Avenida Salamanca. 03005 Alicante. Click here for opening it on Google maps. It is situated in the centre of the city:
30 min walk from the beach El Postiguet
20 min walk from the nightlife area El Barrio
5 min away from the commercial street Avenida de Maisonnave.
5 min away from the Tram Train Station Alicante-Luceros
Many buses have a stop very close to the station. The Tram underground station is 5 min walk away, in Plaza de Los Luceros.
Where to Buy Train Tickets From Alicante?
Renfe is a private-public company that operates most of the trains in Spain. All the medium and long-distance trains are operated by Renfe. All high-speed railways have Renfe's AVE high-speed trains operating the lines but new companies such as AVLO and Ouigo are increasing the number of trains operating the lines. None of the new companies is operating in Alicante yet.
There are 4 ways to buy train tickets:
One way to buy tickets for Renfe's trains in Alicante is at Renfe's Official Website.
At Renfe's office inside the railway station in Alicante, a teller can assist you with the purchase in a more traditional manner.
The third way to buy train tickets to or from Alicante's train station is using the few automatic machines around the train station.
There are also third-party comparison websites that offer Renfe train tickets in a similar way they compare prices for airlines.
What Services Are in Alicante Train Station?
Inside the train station there are a few services that can help you you in your journey:
Machines to buy short and long-distance train tickets
A Renfe office where you can buy the train tickets or sort out any issue you might have with an agent
Free public toilets
Vending machines
Food restaurants
Currency exchange office
Tourist information office
Car rental office
Cash machine
Souvenir shops
Car rental companies
Taxi services
Where can I go from Alicante Railway Station?
The terminal offers services for medium and long-distance trips, including AVE high-speed trains.
One of the medium distance lines is Murcia with stops in the towns in between like Elche. The train from Alicante to Murcia is called Cercanias and prices start from 1,80€ to 7,95€ depending on the destination.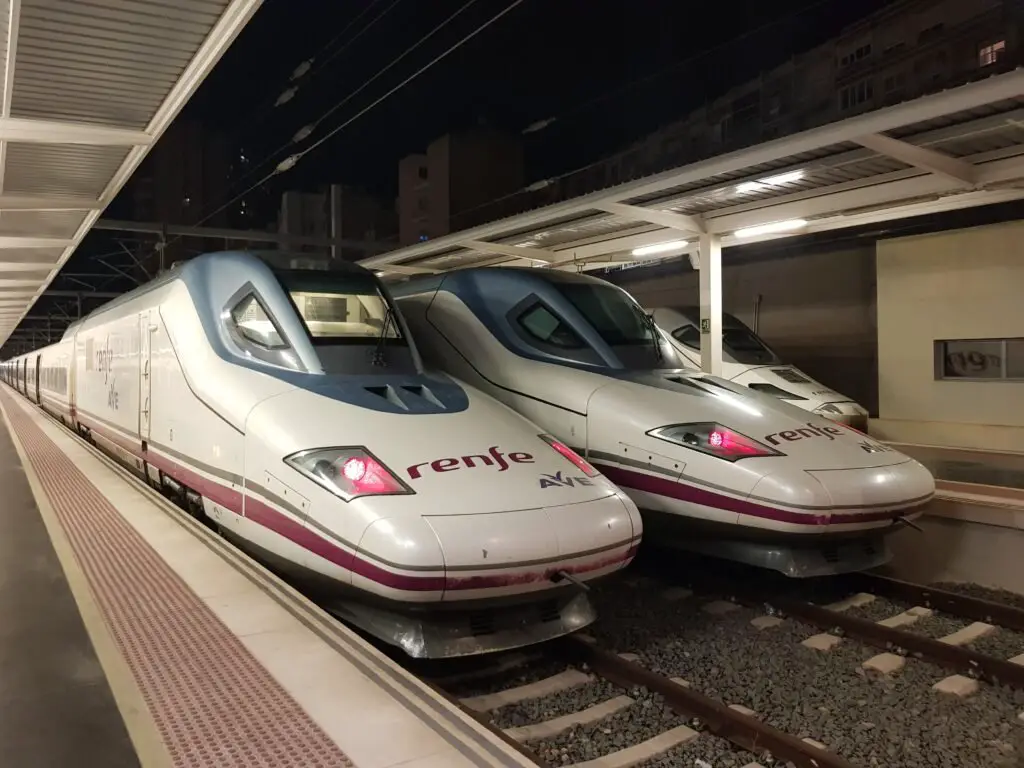 Another common route is the train from Alicante to Madrid. The cities are connected by the high-speed train called AVE that stands for Alta Velocidad Española or Spanish High Speed. Times average on 2:30 hours for 260 mi (420km).
Valencia, Barcelona and other further cities are connected with our without transfer with slightly slower long-distance trains.
Get to Alicante Train Station
If you live in the centre it is very easy to reach the station. Getting there on foot is probably the best way to get to the station if you live less than 20 minutes away. If you are not in the centre, you live, for example in San Vicente del Raspeig or Playa de San Juan, you can use public and private services to go to the train station. Your options are Tram, bus, taxi or Cabify.
How to Go to Alicante's Train Station by Bus?
There are many bus lines stopping less than 5 minutes away from the station: 06, C-6, 22, 21, 04, 03, 04, 07 and a few other lines will drop you up close enough. Google Maps makes it easy to navigate by public transport in Alicante or you can check Vectalia's (bus company in Alicante) website for more info. They have an app as well.
How to Go to the Terminal by Taxi?
The station has a taxi stop. It is on the right side hand when you look at the front facade. Here are the ways to order a taxi:
Get a Taxi by Phone
If you want to be picked up anywhere in Alicante you can call the number +34 965 101 611 or +34 965 252 511. They will ask you for your current address where pick you up and give you an estimated time of arrival. You will then tell the driver where you want to go to estación de tren.
Get a Taxi using the App PideTaxi
PideTaxi stands for ask for a taxi. This app is available on iPhone and Android phones. It offers a similar experience to Uber where you can estimate the time of your trip, see where the taxi is while you are waiting and pay by card using your smartphone. You can download the app from the App Store or Google Play.
To get more information about the taxi in Alicante you can visit their official website here.
How to Go to Alicante Train Station by Tram
Tram de Alicante is a lightweight train that offers services to San Vicente del Raspeig, Universidad de Alicante, Playa de San Juan, Campello and further places like Benidorm.
The railway station of Alicante is 5 min away by foot from the "Luceros Tram Station". All the Tram lines stop in Luceros as it is the first/last stop. To reach the train station you need to walk from Plaza de Los Luceros to the train station. It is only one street called Avenida de la Estacion. It is a walk of fewer than 5 minutes.
How to Get by Uber?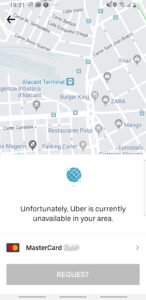 Sadly, Uber is not available in Alicante yet. Their website is confusing as the city is listed on one of their pages but the app won't allow you to request the service and will show an error message: "Unfortunately, Uber is currently unavailable in your area."
If you want a similar service you can use the taxi app PideTaxi. Read up in this Get a Taxy using the App PideTaxi.
Another option is to use the Spanish service called Cafiby. They are very similar to Uber.
How to go to Alicante Train Station by Cabify?
Cabify is the most popular Uber-like application in Spain. It is available in more cities than Uber and works very similarly.
Cabify has been available in Alicante for a while. It allows you to see where the car is on the map, to have a preview of the route and an estimation of the price before you book.
They will usually give you a bottle of water and give you the option of choosing the radio station you want to listen to. Prices might vary in comparison with taxis. You can compare it with the app PideTaxi.
If you are using Cabify for the first time you can use this link to get a discount on your first ride. You can as well use the discount code on the app: victors2395
From Alicante Airport to Alicante Train Station
There are several ways to get from the train station to the airport in Alicante. The cheapest is the bus. The most expensive is the private service Cabify. Finally, the taxis are a bit cheaper than Cabify.
There are a few companies offering private transfers as well.
By Bus
If you are travelling from or to the airport to the train station in Alicante the cheapest way is to take the bus Line C-6. You can check the schedule and more information on this page. The fare is 3.85€ to pay by contactless card (no cash) and there is a travel card available.
By Taxi
Alicante Airport has a taxi stop where you will find a cab most of the time. The taxi companies are dependent on Elche city hall as the airport is situated in the neighbouring city of Elche. They can drive you to Alicante railway station.
The fares are fixed and can be checked on the website of radio ElcheTaxi. When booking online the fare is 27€ and it is fixed. If not booked online fares might be higher.
Forgoing from the train station to the airport the company operating is Radio Taxi Alicante. I asked them the prices and here are the not-fixed rates:
In day hours prices average between 17€ and 18€.
During the night and bank holidays, prices are between 19€ and 20€.
By Cabify
Prices using the Uber-like service Cabify is around 25€. You can install their iPhone and Android app from here to get a discount or add the discount code once the app is installed using this code: victors2395
I hope this article helps with the train station in Alicante. If you have any questions or experiences you want to share, please, use the comments!