When travelling by plane it is important to know how to go from the airport to our final destination. There are several ways to go from Alicante airport to Alicante city centre and the cheapest one is by bus. Actually, it is a quick and good service. After reading this article you will have a better idea of how to go by bus using the regular shuttle.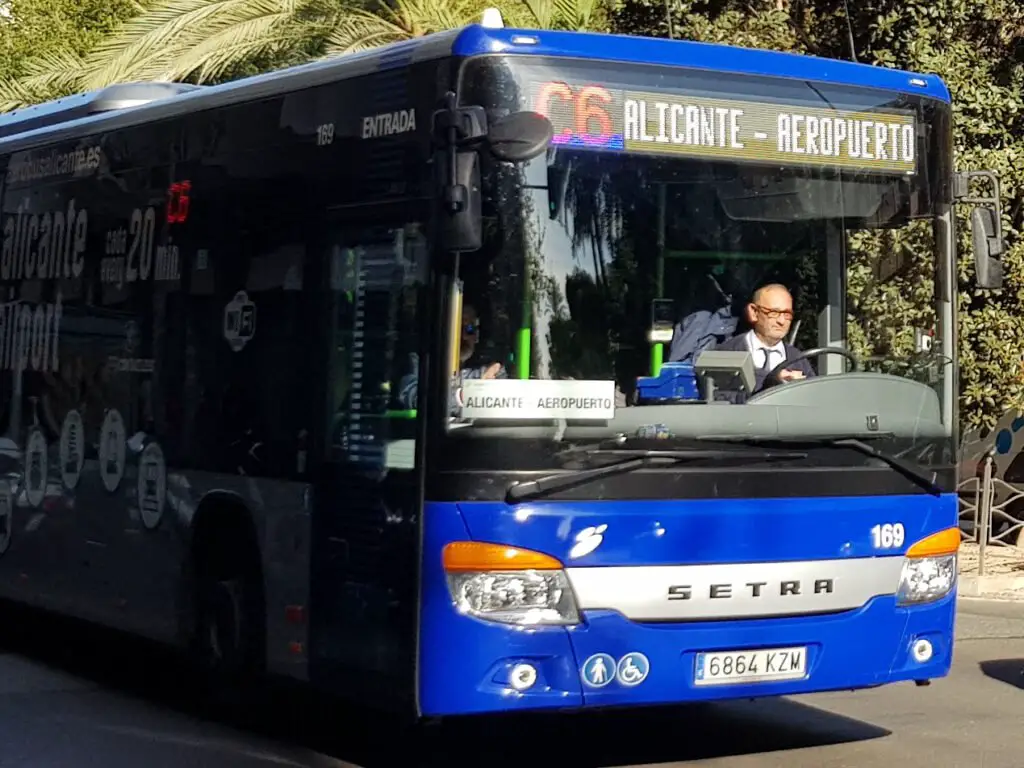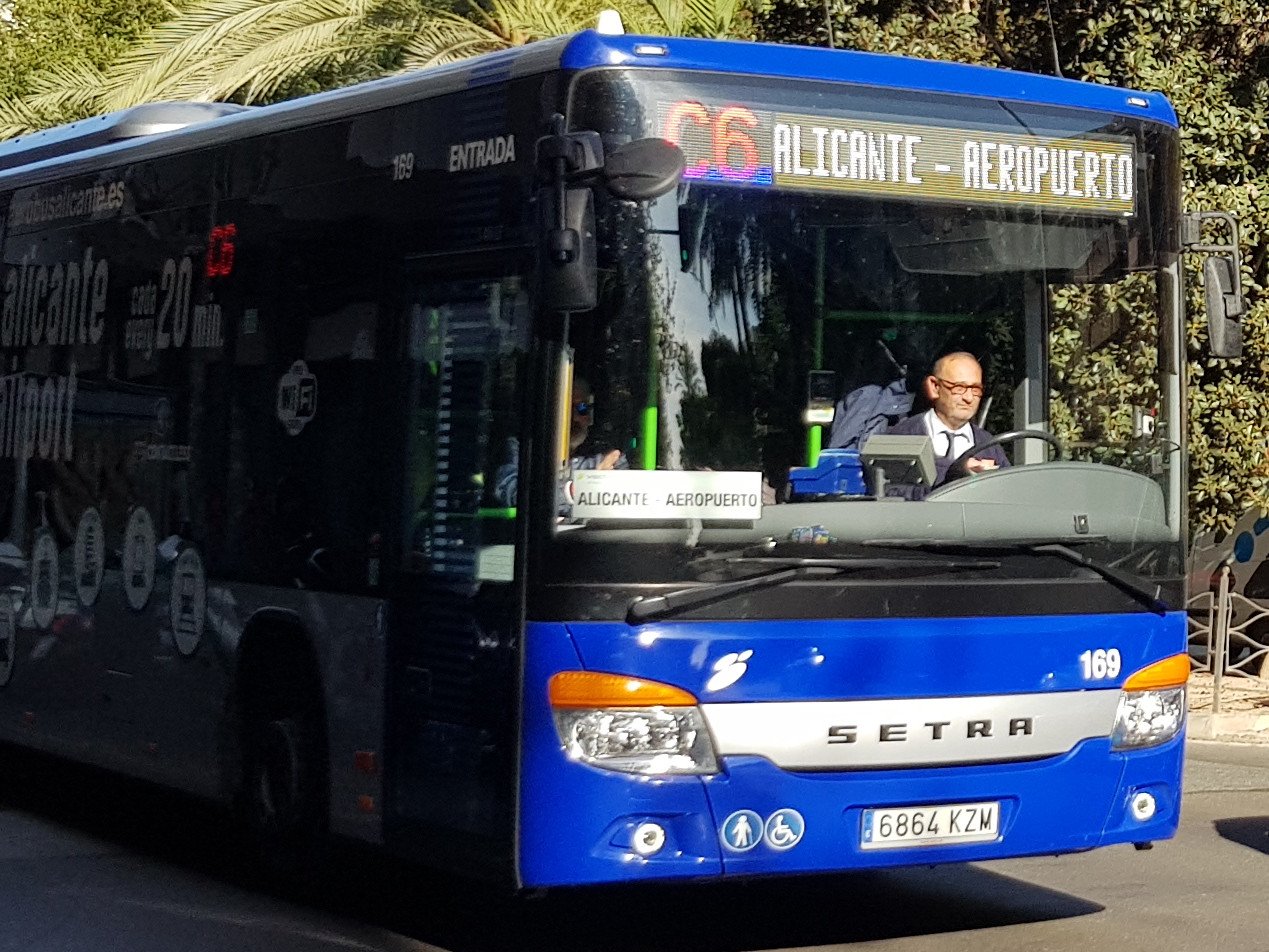 Alicante's buses are divided into two colours: blue and red. All red buses operate within the municipality of Alicante city hall. Blue buses go further to transport people into other municipalities. The airport is in Elche's area so blue is the colour of Alicante's airport bus. The line name is C-6. The journey takes about 30 minutes to complete but it can be a bit more with dense traffic.
Where to Get Alicante Airport Bus C6
Alicante airport bus C6 to Alicante city centre or to the airport stops at the -2 floor in Alicante Airport. Note that all busses stop at level -2. This is the lowest level at the airport. There are lifts right outside the arrivals door that are very convenient to get into the bus stop. There are also mechanical ramps or traditional stairs to use.
Some of the bus stops in Alicante are: Plaza de los Luceros, Alfonso el Sabio or the train station. All those are very convenient locations as you can commute to the Renfe's trains, Tram, the EUIPO office or other bus services very easily.
C6 Bus Prices to Alicante or Alicante Airport
The price for one single trip to or from Alicante airport is 3.85€. Only card payments are permitted. Contactless, chip and magnetic debit or credit cards are accepted. Note that your bank might charge you for euro currency payments. Here you have some tips if you want to open a Euro account in a Spanish bank.
For frequent travellers to the airport, there is also available a bundle of 10 trips for 12€. Visit Vectalia's C6 bus to Alicante airport official website for more.
Schedule
The bus operates from 5:00 in the morning to 0:00 at night. Press here to download the official C6 Alicante Airport bus schedule. The bus frequency is one bus every 20 minutes in both directions, to Alicante airport from Alicante city centre and to Alicante from the airport.
Here is the valid timetable at the time this article is updated but remember to always double-check on the official website: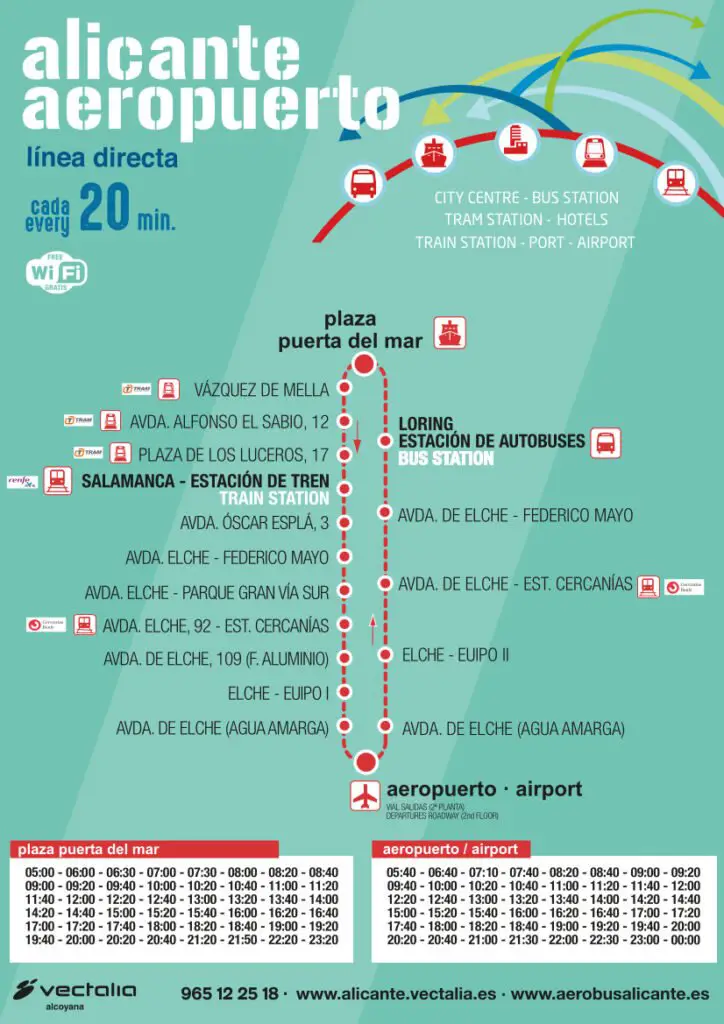 If you have any questions about how to go from Alicante airport to Alicante city centre by shuttle bus or you have any experience with the service, share it in the comments and w will do our best to help.