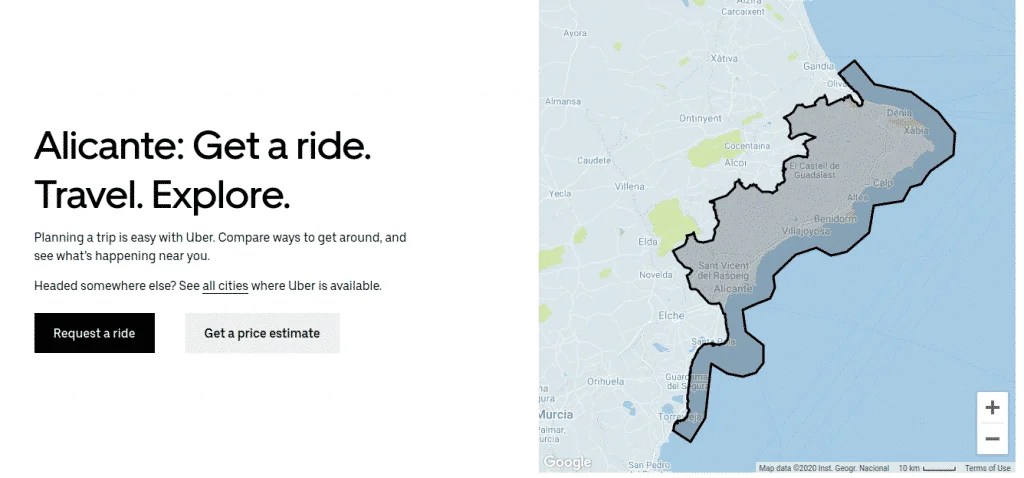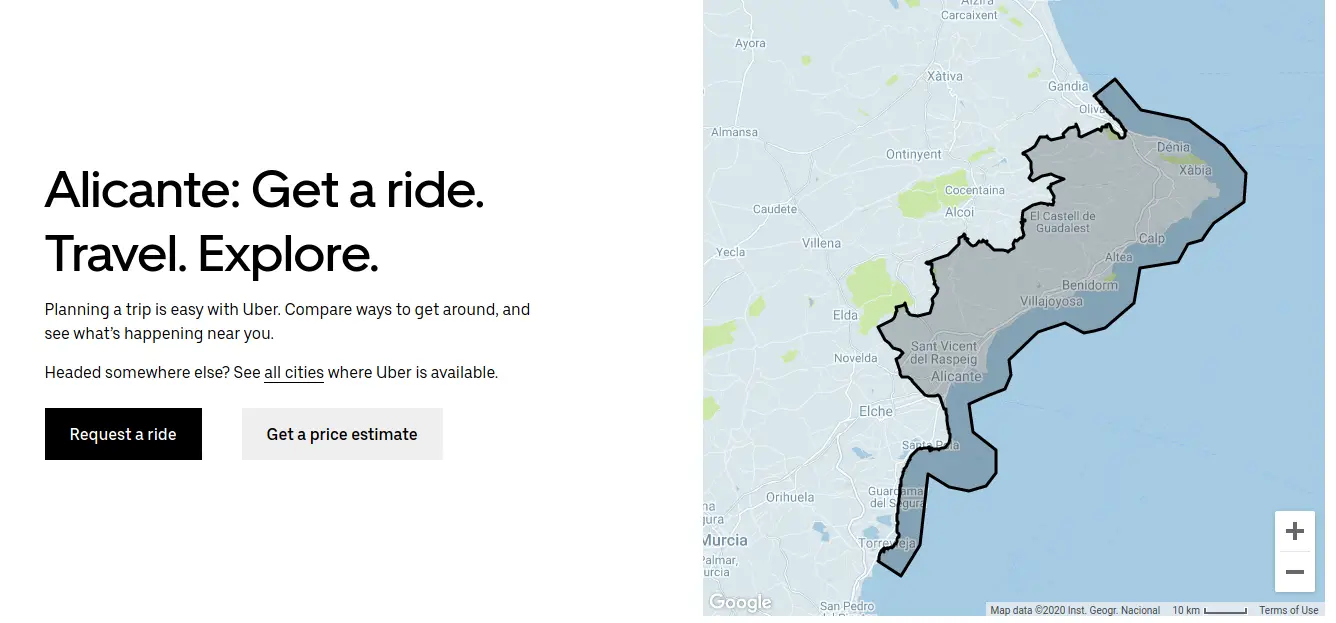 Uber is an app to call taxi-like cars that will drive you to your destination. It is available in many cities around the world and they offer set prices for the rides, customer support and GPS car location tracking form the app among other advantages.
Does Alicante have Uber? No. Uber does not operate in Alicante. The company has announced the start of its ride operations several times but always got postponed. The only Uber branded service in Alicante is Uber Eats what is available in cities such as Alicante or Elche but not in Benidorm or Javea.
Despite Uber not being available in Alicante there are other alternative apps offering similar services to Uber. Let's going to find out what they are.
Alternative Apps to Uber in Alicante
Uber does not operate in Alicante but there are other good ride app services operating in the city.
The first alternative is Cabify. It is a direct competition of Uber in many cities around the world. They are more centred in Spain and Latin-American countries than Uber. Cabify has been operating in Alicante for a few years.
The second alternative is PideTaxi. It is an app created by the traditional taxi drivers association in Alicante and has similar features to Uber and Cabify.
Alternative To Uber in Alicante: Cabify
Cabify is an app that you can install in your Android or iPhone device. The service payment will be done automatically in-app by debit/credit card (including American Express and Diners Club) or PayPal.
Once registered in the app you can book a car for now or book it for a different time. At the moment, they offer 3 different categories of cars:
Corporate: This service is for companies.
Lite: 5 seaters cars where 4 people can travel (1 driver + 4 passengers).
Kids: 5 seaters cars with adapted seats for children.
The app gives you an estimate of the price of your ride before booking the car. Prices will change at peak/off-peak times but here are some guide fees:
| | | |
| --- | --- | --- |
| Origin | Destination | Price (€) |
| Alicante Airport | Alicante | 29 |
| Alicante Airport | Benidorm | 110 |
| Alicante | San Juan Beach | 16 |
| Alicante | Calpe | 120 |
If you are using Cabify for the first time you can get a discount using our referrer code: VICTORS2395. Installing the app from this link should add the discount automatically. In case it didn't work you can add it manually as Cabify explains in their website's help section. That will add some credit into our Cabify account as well.
Hint: Traditional taxis are usually cheaper than Cabify in Alicante.
Alternative To Uber in Alicante: Traditional Taxi Using PideTaxi App
The second option is to use the PideTaxi app on Android or iPhone. The use of the app is very similar to Uber and Cabify. After installing the app you can book and pay cabs from your phone, get an estimate price of the ride and schedule a pick up in a different time or day.
The payments methods the app offers is PayPal or cash. You can still book the taxi with the cash option and pay by cash or card inside the taxi. By law, all the cabs must allow card payments.
Prices are government regulated, here is a list of guide prices for common destinations:
| | | |
| --- | --- | --- |
| Origin | Destination | Price (€) |
| Alicante Airport | Alicante | 19-21* |
| Alicante | Alicante Airport | 17-20 |
| Alicante Airport | Benidorm | 67-24* |
| Alicante | Benidorm | 55 |
| Alicante | San Juan Beach | 13 |
| Alicante | Calpe | 77 |
* The cabs in Alicante Airport can not be booked using PideTaxi app. The reason is that taxis are organised in different associations depending on the city where they operate. Alicante Airport is in Elche's municipality so taxis starting a ride from the airport are from a different taxi organisation.
The airport has usually many taxis waiting for clients so it should be easy to get one. All the rides starting at the airport have an extra charge of 4.25€. More info in Alicante Airport Aena's website. If you still want to use an app from Alicante Airport you can use Radio Taxi Elche. The use is very similar to PideTaxi and the features are the same.
Is Cabify Legal in Alicante?
Yes, Cabify is legal in Alicante as they are using lawful company structures.
Cabify is a company that matches clients with drivers. In Alicante, cars are own by a third party company that hires the drivers. This company owns what is called VTC licences. It stands for Vehículos de Turismo con Conductor or Tourist Vehicles with Driver.
VTC's are different from taxis in its regulation. For example, they can pick up people only if the service has been booked in advance. There are less VTC licences than taxi licences.
The taxi drivers have been, for a long time, trying to beat Cabify, Uber and the VTC companies all around Spain. They have denounced the companies in the courts, created demonstrations so the government changes the laws and launching advertising campaigns in the media to stop the apps. After all that, Cabify is still legal in Alicante.
Cabify Gives You Water and Plays The Music You Want to Listen to
As a way to differentiate from the competency, Cabify cars are usually clean and the colour is usually black. The driver will usually dress smart. They give you a small bottle of water and ask you what music do you want to listen to before starting the trip.
History of Uber in Alicante
Uber has been targeting Alicante for long time. In February 2019 they were planning to offer UberX with VTCs, as Cabify is doing.
The taxi lobby in Catalonia started striking so the government changed a few laws that would make Uber illegal. Most of the regulations for the taxis and VTC are controlled by the Spanish autonomous communities and the head of Comunidad Valenciana announced some regulatory changes.
As Uber wasn't still deployed in Alicante yet so they decided to postpone the launch of UberX. They were almost ready and they drew in Uber's website the area of service in Alicante province and Costa Blanca.
Uber Eats
Uber Eats is a food delivery service that operates in Alicante. The app has a list of restaurants and dishes. You can select all the food you want from the app and pay it.
The app Uber Eats will show you the status of your order, such as preparing food at the restaurant with an estimated time of arrival.
When the courier is on the way you can see the exact location on the map. Some more information like his/her name, the car/motorbike/bike she/he is driving, the review stars other user gave to the driver and a button to make a call are available as well. At the end of the booking, you can make and leave a review as well.
If you are using Uber Eats for the first time you can use the discount code eats-victors8524ue. That will give you £15 off in an order of £20. The same discount will apply to our account.
Related Questions
Is Cabify cheaper than the taxi? Depending on the route and peak/not peak time taxis can be cheaper than Cabify. It is a good idea to check both apps before taking your ride.
Is the botel of water in Cabify free? Cabify doesn't charge anything extra if you decide to drink or take your bottle of water.
Will Uber be available in Alicante in the future? The company has showed it's intention of offering the rides service in Alicante several times. Chances are that they will offer the service when regulation settles.