Alicante is a privileged city. The town centre is only 20 min away from the 5th airport with most passengers in Spain. Madrid is 2h away by train and London 2:30h away by plane. By road, many coach companies have regular services into the city. If you are driving your own vehicle you might find good quality motorways in Spain. Finally, there are 2 ports where guests can dock for a few nights and big cruise ships have a terminal. Let's go into more detail on how to go to Alicante.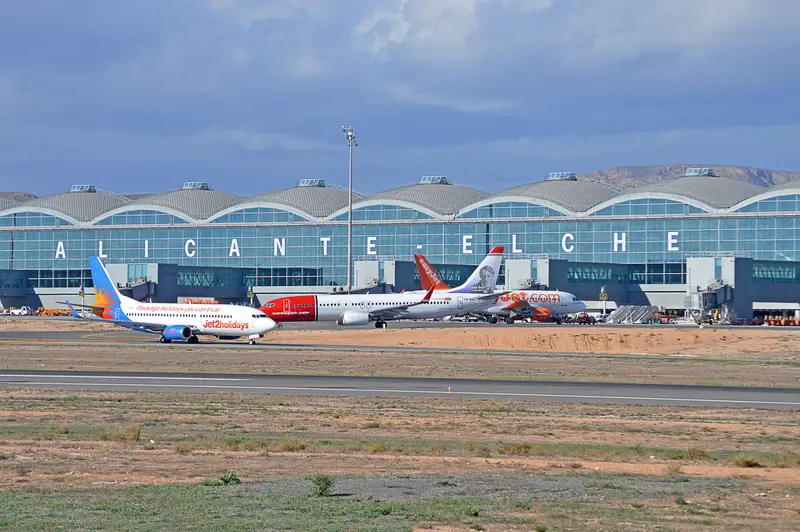 By Plane
Alicante has one of the busiest airports in Spain. It ranks on the 5th position on passenger traffic and many airlines have routes from/to Alicante all the year-round. The official name is Alicante-Elche airport, as Elche is the municipality where the airport sits. This is one of the best ways on how to go to the city. All this said, the peak on flights (and ticket prices) are in summer, where is the tourism high season in Costa Blanca. This situation makes Alicante a perfect place for holidays, living and business.
Alicante-Elche airport is connected to cities like Berlin, London, Oslo, Moscow, Santiago de Compostela, Casablanca, Reykjavik, Roma and many many other big, medium and small cities across Spain, Europe, Euro-Asia and Africa.
As you can imagine, that is done thanks to many airlines operating in Alicante airport. Some of them are Vueling, Iberia, British Airways, Ryanair, Easy Jet, Norwegian, SAS or TUI Airways among many many others. So, fFlight search engines like SkyScanner.net will help you to find the best flights and airlines in the dates you need.
By Road
Alicante is connected by the paid motorway AP-7 coming from the north through the coast. The free motorway A-31 connects to Madrid. And finally, the paid/free AP-7/A-7 motorways allow driving to the south by the coast. The main single carriage road is the N-332 that is a great beautiful alternative for the paid motorways if you are not in a hurry. As well, there are no traffic restrictions applied in the city centre as of yet.
Alicante has a terminal bus station. The biggest bus company in Spain is Alsa connecting Alicante to most of the rest of the cities in the country at very low prices.
Another cheap way to travel from/to Alicante is using Blablacar. This French company provides a platform to organize trips between people in their owns cars. It is well used in Spain.
The last option is renting a car. There are many big and small companies sitting in Alicante. Some examples are Goldcar, Hertz or Fine Rent A Car. Probably, the quickest way to find a good deal is to use a car search engine like kayak.com. There are no
By Train
There are 3 main types of rail services in Alicante. Long-distance and short-distance trains that are served by Renfe and Tram de Alicante services to between the city and near towns, as Benidorm, are served by FGV.
On the long-distance, you can use the high-speed trains to Madrid and other cities in between to follow your trip in slower trains to your final destination. In addition to this, trains going north trough the coast are not high speed but offer a reliable and fast service. Check Renfe and Tram de Alicante websites for routes and tickets.
By Sea
And last but not least you can travel to Alicante by sea. There are several ferry routes that connect the city with Oran and Alger in Africa or routes that connect the Balearic islands from the near city Denia.
Not surprisingly, Alicante has a cruise terminal where tourists can get off the ship and visit the city.
As well, if you are traveling by your own bout you can get off in Alicante's marina and enjoy the shower and laundry installations.
Hopefully, all this information have cleared some of your concerns on how to go to Alicante. If you have an experience in any of those ways of traveling to the city feel free to tell us on the comments. In a similar way, if you have any other question not answered in this article, please, leave a comment and we will try to help you.