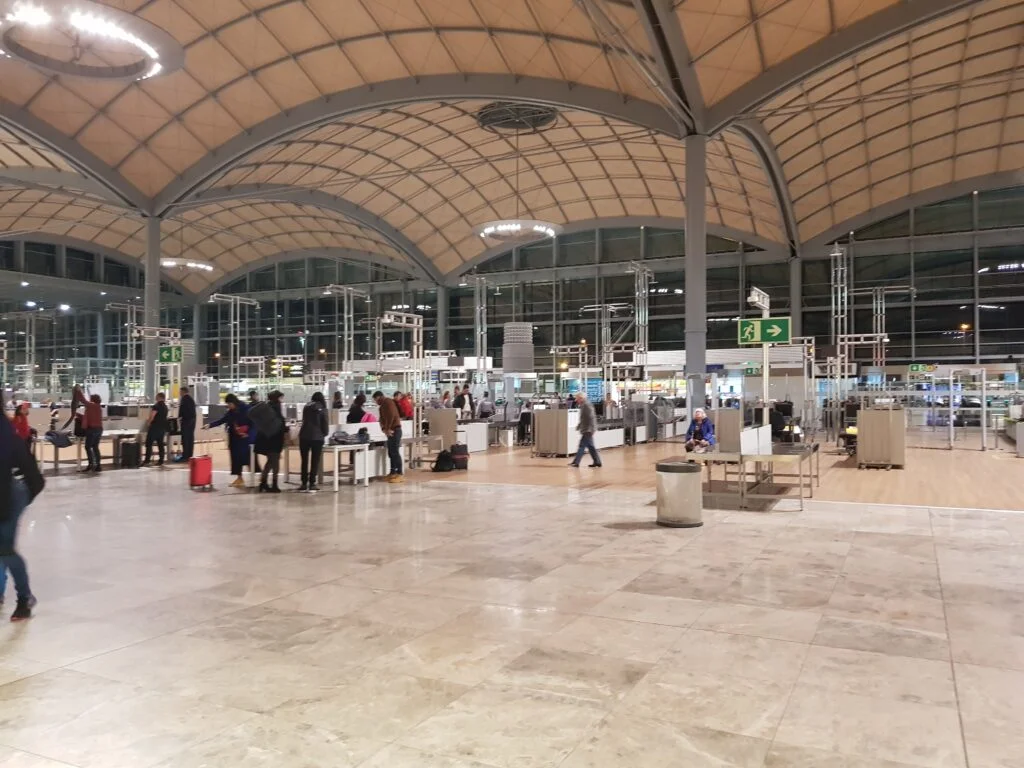 If you are travelling from or to Alicante Airport you might think that the train is the best transport to get to the airport. But does Alicante Airport have train station services?
Has Alicante Airport Got a Train Station? No. Alicante Airport does not have any train or rail services. The nearest train stations are Alicante Railway Station and Alicante TRAM Station, 7mi (11km) away from the airport.
Alicante airport might not have a train station but it is quick and fast to get to the trains. It is easy to get to the Renfe/Adif's trains for medium-long routes and the TRAM station for short journeys.
How to Get to Alicante Train Station from the Airport?
The airport has a big pick-up and drop area with separated spaces for private and public usage.
There is a taxi stop right outside the arrivals' airport doors. There is a public bus to Alicante train station and city centre outside the departures floor. In addition, there are many private companies serving airport transfers to your destination.
How to Get a Train from Alicante Airport by Bus
There is a public bus line called C-6 that will get you to the train station from the airport. C-6 Alicante Airport bus operates from 5:00 am to 12:00 pm.
It runs every 20 minutes and cost 3.85€. The C6 bus line has a payment terminal to pay by card (credit or debit), using contactless or chip. It takes about 30 min to get to Renfe/Adif or TRAM Train Stations.
The frequency is of 20min. There is more information in this article about Alicante's C-6 airport bus line.
Taxi
The company that runs the taxis starting in Alicante Airport is called Radio Taxi Elche. They have regulated prices as it is public transport. The prices from the aerodrome to the Renfe/Adif or TRAM stations will be around 19€-21€. There is the option of booking the ride in advance.
If you are travelling from the train station to Alicante Arporto the company serving the taxis is called Radio Tele Taxi Alicante. The price will be a bit lower, around 17€-20€.
Cabify
Cabify is a Uber-like service where you can rent rides from an app. Uber is not available in Alicante and Cabify is the Uber-like alternative. Alicante Airport has also a traditional taxi stop. Cabify gives you a bottle of water on every ride in case you are thirsty.
If it is your first time using the app you, and us, can get a discount by downloading the app and using this referral code: VICTORS2395.
The ride from Alicante Airport to Renfe/Adif or TRAM train stations in Alicante is around 17€.
Private Transfer Companies
There are many transfer companies operating at Alicante Airport. Some of them will be specialised in driving travellers to Benidorm, Calpe or any other town further to Alicante but it might be an option if you are a group of people.
What Train Services Are Available in Alicante?
Alicante has 4 major types of trains. TRAM trains start from Luceros Station and any other train service starts from Renfe/Adif station.
The TRAM service is a light railway. The TRAM station is useful if you are travelling to nearby cities in the north of Costa Blanca. Also, TRAM trains has stops in cities such as Villajoyosa, Benidorm, El Albir and Calpe.
The Renfe service is a traditional train service for medium and long distances. Some destinations you can reach from Alicante train station are Murcia, Madrid or Barcelona.
There are as well fast trains services operating from the Renfe/Adif station. The name of this train is AVE (Alta Velocidad Española/Spanish High Speed). The only route available at the moment is Alicante-Madrid.
Why Does Alicante Airport Have Not a Train Station?
Alicante Airport hit the 15 million passengers per year milestone in December of 2019. The European Union recommends train station connections to airports with more than 7 million passengers. Nevertheless, Alicante Airport has no train station.
It has been repeated through the years by the Spanish politicians that the station will be done. The 2008 crisis has delayed for years the project. Local, regional and national politics haven't helped either as no government has taken the project seriously.
Another reason the train station project has been blocked is that there is a medium distance train going to Murcia which tracks pass 1.5mi (2.5km) away from the terminal. That train line is expected to be moved away from where it is now, right next to the sea for several miles. This project being stuck -as well- has delayed even more the Alicante Airport's train.
When is Alicante Airport Going to Have a Train Station?
The airport terminal was designed to host a railway station what should speed up a bit the constructions work.
The reality is that the national government has requested a preliminary study on how to undertake the works to be ready by 2021. To add more confusion the regional government has thought about the possibility of expanding the TRAM to the airport.
There is not a clear date on when the airport will be connected by train neither on when the construction works will start or what actual train is going to provide the service.